High Achiever Awards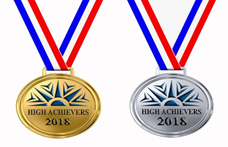 Student Affairs Directorate hosts annual High Achievers Award Ceremony in the month of March to acknowledge the achievements of undergraduate students of the preceding year. This award is presented in three categories; International, National and Inter Varsity.
Eligibility Criteria
Students are eligible for the High Achievers Awards based on following criteria: –
Winning a position or an honourable mention at an International event being prestigious to NUST

Winning a position i.e. 1st, 2nd or 3rd at a National event / contest.
1st, 2nd or 3rd position in an Inter-Varsity competition. (The awardee shall be considered for his/her significant position after analysing the number of participants and institutions competed with).

Individuals who are fully funded by International funding agency.

Individual(s) who have achieved > 3.5 CGPA or all 'A' grades in an Exchange Programme.
Note:           Proof of participation / award is mandatory to be attached with the achievement(s)